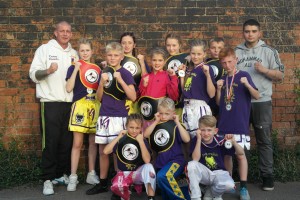 11 Junior members of the K.9 Fight Team based at Legends fitness Academy took part in the Barnsley Open Kickboxing and White Collar Boxing event last weekend with 8 of them coming back as open champions.
In the White Collar Boxing Categories;
Chiara Spink (14) won the -45 kilos Schoolgirl Title in a great close technical battle, Chiara's jab and work rate winning it for her.
Tyler Munro (11) won the -40 kilos schoolgirl Title with her aggression and fast accurate straight punching.
In Full Contact Kickboxing Categories;
Tia Sayer (13) was the star with her -50 kilos schoolgirl title win over tough fellow England International Lucy Unijat from Sheffield, this was an absolute battle with Sayer's more accurate powerful front kicks winning it for her.
Ashton Neller (7) won the -25k Junior title with a powerful final display against Tristan Harlow of Rotherham.
Imogen Casey (14) won the -40 kilos schoolgirl full contact title final in an extremely close battle with Londoner Chloe Cook which could have gone either way.
Conner McHugh (10) beat Birmingham's William Watson in the final of the Schoolboy -40 kilos category showing a lot of improvement.
In the Light Contact Categories;
National Champion Nicky McHugh (12) was in top form winning the -40 kilos category against a top opponent from Sheffield and Keira Sayer (7)in her first Championships appearance totally dominated the -25 kilos category.
Remy Sayer (12) was narrowly outpointed in the final of the -30 kilos Junior boys category.
Dublyn Doole (12) showed her skill as the K.9's most improved fighter with a fantastic display in the schoolgirls -40 kilos category losing by the most narrow of margins but showing huge improvement.
Hadley Neller (9) put on a valiant display in the schoolboy -30k category final but needs to listen to his corner more.
K.9 coach Dave Munro, awarded a trophy to Keira Sayer for 'Performance of the Day' and one to Dublyn Doole for 'most improved fighter'. K.9 Fighters will be in action in Newark next month and at the World Amateur Championships in Italy on October 29th to November 5th.