K9 Fight Academy/Legends Gym are proud to present their next massive night of sport boxing and K1 'GLADIATORS RESURRECTED' on Saturday August 20th at Oceanroom Gorleston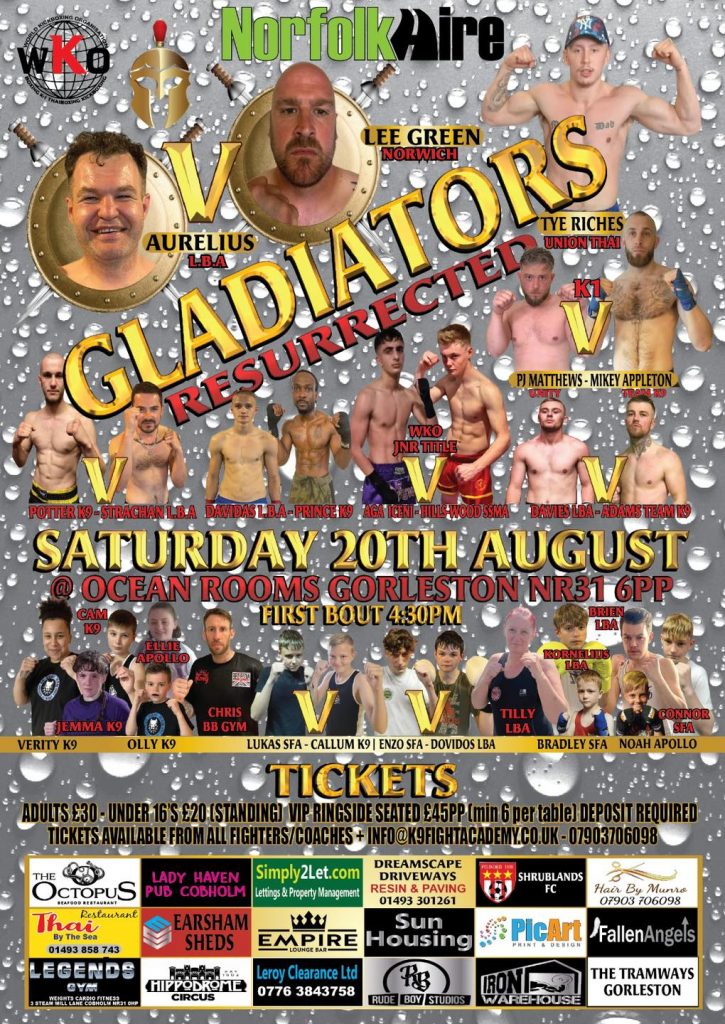 Topping the bill will be Aurelius Kerpe (LBA) v Lee Green over 5 Rounds in an awesome match up. Joint Chief Support will be Gorleston's favourite son Tye Riches (Union Thai) in a boxing battle guaranteed to get the crowd roaring!!
Mikey Appleton (Team K9) v PJ Matthews (Unity) in a huge K1 Clash which will bring the house down!!.
Abdullah Aga (Iceni) and Zak Hills-Brown (SSMA) clash for the WKO Junior Title. Verity Leonard (Team K9), Prince Gee (Team K9), Jack Adams (Team K9), Tyler Lopes (Team K9), Jack Potter (Team K9), Jemma Thomas (Team K9), plus K9 Juniors Callum, Cam and Olly will all be in action.
LBA's Lewis Davies, Adam Brien, Davidas Neverauskas, Tilly Hunt, Strachan Boyd, and the Kerpe Twins will all be in the ring. SFA will have Enzo, Lukas and Connor and several more. Sleaford Martial Arts, Apollo Martial Arts Ipswich, Britannia Boxing, Nicky's NDTS Gym, Eagles Gym, Elvos Gym, Iceni Siam and many more will be in attendance.
Tickets and Tables available soon. DON'T MISS THIS EVENT!
For tickets contact one of the fighters or email info@k9fightacademy.co.uk