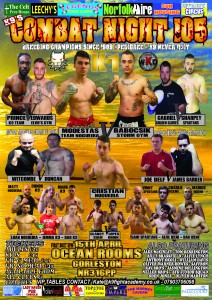 K9 Fight Team and Legends Fitness Academy are pleased to announce our next event COMBAT 105 which will take place on SUNDAY 15th APRIL. This will be our 105th event in over 30 years of Promoting safe, exciting, fully sanctioned, fairly matched family friendly shows.
Yarmouth's exciting, tough Modestas Andrijauskas will be taking on Luton Warrior Bobicsik Gergely of Storm Gym in a mouth watering PRO K1 bout, K9 Fight Team's Prince Gee once again takes on the best when he clashes with Norwich's Super-tough Nathan Edwards and Spartan's Jake Sharpe will defend against Norwich hard man Chrissy Gabriel in a massive local derby.
Once again the Royal Marines Charity will be the benefactor when Danny 'Royal' Witcombe takes on Former Para Heathcliffe Duncan in a clash which guarantees fireworks!!
Big Joe Delf and James Barker do it again! (Will James change it around this time?) Spartan's Sami James and Vinny Shillitto will be back to thrill the crowd again.
K9 Fight Teams' Dan Sinclair, Conor Judge, Mark Powell, Jemma Thomas and our Junior stars will be in action.
Team Nogueiras' Luan Rrahmanaj, Matt Carter, Aidas and Cristian Constanchi will all be fighting.
We'd like to welcome new gyms to our event Union Muay Thai from Gorleston , Spencer's Team from Boston and Team Siam from Norwich. Combat Night regulars Iceni warriors from Norwich will have four fighters on, and Norwich Golden Gloves,Rob Judd's BFK, Elvos Gym, Billy Browns KBA, Bedford Eagles, Apollo, Rav Boys Gym, and many more will be in attendance.
Looks like another exciting packed out evening of ringsports. Tickets and VIP tables will be available from coaches and fighters.