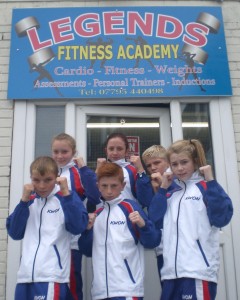 Six junior fighters from the K.9 fight team based at Legends Fitness Academy, have been selected to represent England at the 2013 W.K.A World Amateur Championships in Pisa Italy next week.
Tia Sayer (13), Chiara Spink (14), Imogen Casey (14), Nicky McHugh (12), Remy Sayer (12) and Conner McHugh (10) will be flying out to Italy as part of the 80 strong England National Team selected from their exploits at the English Open, British Open and Northern Open Championships.
Tia, Imogen and Remy will be representing England in K.1 Kickboxing and Low-Kicks Categories (Remy also in Muay Thai), Nicky and Conner in the Light Continuous, Kickboxing and Low-Kicks Categories and Chiara in the Light Continuous and Low-Kicks categories.
The event takes place over a week and features over 4000 competitors from the elite of Kickboxing and Muay Thai from over 70 countries. Club Coach Dave Munro says "the standards are very high, however we are confident that we can bring some medals home as we have done for the last 5 years".
Anyone interested in sponsoring one of these exciting junior champions please contact Katie on 07717 378390.