It was the end of an era today. Undefeated Multi Titled Champion and England Rep Dan Mitchell's final training session at K9 Fight Team headquarters @ Legends.
Dan is starting a new career in the Royal Navy next week and will be boxing as an amateur there. Hopefully he will make their team for the Combined Services and ultimately get into the ABA's one day.
Dan - who has an unbeaten record in K1 and White Collar Boxing of 27-0 - is one of the most hardworking, loyal, dedicated and talented fighters we've ever coached at K9 and joins the unrivalled (in this area) list of Elite fighters and England reps we have produced in the last 30 years. Champions: Bin Tyler (Pro WKA World Kickboxing Champ), Paul Prewer (Pro WKO European Muay Thai Champ), Frank Crosswell (Pro BMTA British Muay Thai Champ), Kirk Palmer (Pro BMTA British Muay Thai Champ), Adrian Hartle (Pro British Kickboxing Champ), Danny Smith (Pro Boxer, and WKO European Kickboxing Champ), and (towards end of his career) Marty 'Boy' Duke (Pro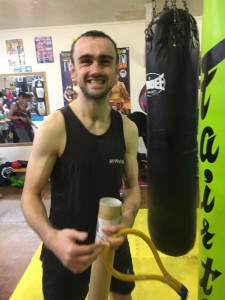 Boxer and Champion Kickboxer), Jade Munro (WKU World K1 Champ, 2x World FC Champ, ABA National Boxing Champ, and British and Commonwealth Muay Thai Champion),  Cam McGarrigle (World WKA Jnr Kickboxing Champ), Kelsea Carroll (World WKA Jnr Kickboxing Champ), Liam Plant (English Muay Thai Champ), Ben Mitchell (World WKA Jnr Kickboxing Champ), World Jnr Silver Medalist Dan Dawson,  Nicky McHugh (Two times World Jnr Kickboxing Champ), Imogen Casey, Tyler Munro, Chiara Spink, Connor Judge, Travis Manning, Carlos Moran, and Luca McComb (Who have all represented England at home or abroad).
Fighters from our gym have fought in Thailand, Germany, France, Spain, Italy, Malta, Belgium, Ireland, Scotland & Wales.
Dan was never matched easy (Won 6 Titles away from home), and had some great 'come from behind' victories (where he showed the heart of a lion) to beat Micael Calunga (KO gym) for the WKA title by stoppage when behind on points, and Hard as nails Dave Gould (T.M.A Essex) for the ISKA Title. Beating Contender Champ Som Prasert by 1st Round KO for the British Title and his wins in Spain over French, Spanish, Irish and Ukrainian opponents were also huge highlights in his undefeated run along with countless other title wins.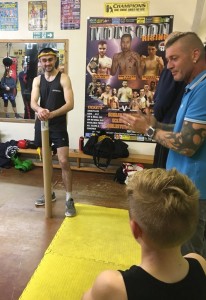 Dan was presented with a Mongkol (Thai pre-fight ritual headband) this was the original one I was presented with in Thailand on my third training trip to Thailand back in 1991 and I can't think of anyone more deserving of it. Dan, I'm sure, will one day be one of the best coaches in the region and a great legacy for me John and the rest of the K9 coaches. He was also presented with a banner/montage of many of his great achievements, a memorial Trophy and a signed Boxing glove from all the gym members. K9 Coaches: Me, John, Ben, Cam, Aaron, Jade, and Bin, and Dan's long standing sponsor Colin Sunderland of Sun Housing all wish him the very best of luck in his new career and all future combat endeavours.
"Its been an honour to coach you mate and the buzz of being your coach has kept me going through some bad times and many ups and downs. All the best Champ, you're a great fighter but even more importantly your a genuine, humble, kind, loyal, respectful fella and a credit to your family and our gym".